free website for your rv park or Campground
RV Park Marketing is essential for any campground website to succeed in today's world. Utilizing a website designed to get you clicks, calls and customers can help start bringing in business for your RV park. At RV Park Marketing, we use a combination of A.I. and advanced machine learning technology to create an online engine that provides small businesses with the advertising and marketing soluti...More
RV Park Marketing is essential for any campground website to succeed in today's world. Utilizing a website designed to get you clicks, calls and customers can help start bringing in business for your RV park. At RV Park Marketing, we use a combination of A.I. and advanced machine learning technology to create an online engine that provides small businesses with the advertising and marketing solutions necessary to attract customers. With years of experience, our team at RV Park Marketing is here to help drive more visits and traffic to your campground website, while ultimately increasing its success!
Less
A WEBSITE DESIGNED TO GET YOU

CLICKS, CALLS, AND CUSTOMERS.
WE USE A COMBINATION OF A.I. AND ADVANCED MACHINE LEARNING TO GIVE YOU AN ONLINE ENGINE THAT DELIVERS WHAT EVERY SMALL BUSINESS REALLY NEEDS: CUSTOMERS.
When someone visits your site, we have

seconds to grab their attention.
It takes about 0.05 seconds for visitors to form an opinion about your website. (Taylor & Francis)
Visitors spend an average of 5.94 seconds looking at a website's home page. (CXL)
88% of online consumers are less likely to return to a site after a bad experience. (Econsultancy)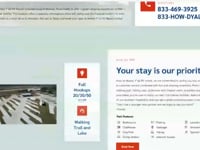 our software makes anyone a web developer. Get a free 14 day trial, no credit card needed.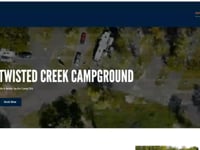 We know how to build sites that

convert visitors into customers.
We've mapped the DNA of the perfect website.
Calls to action and contact forms to generate leads.
Social content to drive engagement on your platforms.
Reviews to build trust with visitors.
SVGs and animations for a cutting-edge design.
Map footer to drive traffic.
So much more
than just a website.
Amazon Hosting

SEO

Analytics

Mobile

Optimization

HD Content

Blog Platform

Social Media Integration

Reviews Live Stream
We build the most

beautiful websites

in every industry.
1. How do I build a website?
RV Park Map is the best website builder for RV parks. Our easy-to-use drag-and-drop interface makes creating a custom website quick and easy. Our RV park-specific features will help you promote your park and attract more visitors. And if you need any help, our friendly support team is always just a click away. So why wait? Get started today and see how RV Park Map can help you build the perfect RV park website.
2. How important is website design?
The answer depends on your goals for your website. If you want your RV park website to simply provide information about your RV park or campground - such as rates, amenities, and contact information - then a well-designed website isn't essential. However, if you want your RV park website to help you attract new customers and grow your business, then a well-designed website is vital. A custom RV park website can showcase your unique features and amenities, help you communicate with potential customers, and make it easy for them to book a reservation. In short, a custom RV park website can be a powerful tool for marketing your business - and that's worth the time and money. So if you're looking to attract new customers and grow your RV park or campground, RV Park Map can help you achieve your goals. Contact us today to learn more about our services!
3. What are the benefits to having a well-designed website?
A well-designed website can provide a number of benefits for RV parks. First, it can help to create a professional image for the business. A custom website that is well-designed and easy to navigate conveys a sense of care and attention to detail, which can inspire confidence in potential customers. Additionally, a website can be a valuable marketing tool. By including an RV park map and information about local attractions, parks can encourage visitors to book a stay. Finally, a website can help RV parks to stand out from the competition. In a crowded market, a well-designed website can be the difference between attracting new customers and losing them to another park.
4. How do I go about designing my website?
If you're looking to design a website, there are a few things you'll need to take into account. First, what is the purpose of your website? Are you looking to promote your RV park, or are you simply wanting to provide information for potential customers? Once you know the purpose of your website, you can begin to look at different design options. Our RV Park Map website builder makes it easy to create a custom website, and our artificial intelligence technology will help you choose the perfect template for your needs. If you're not sure where to start, simply take a look at some of our customer's websites for inspiration. Remember, the most important thing is to create a website that is both informative and visually appealing. With a little time and effort, you'll be able to design a website that perfectly suits your needs.
5. How much should I expect to pay for website design services?
RV Park Map is a website builder that allows users to create a custom RV park map for their website. The service is free for up to five RV parks, and users can upgrade to a premium plan for more features. Pricing for website design services depends on the number of RV parks, the features you need, and the size of your website. RV Park Map offers a variety of plans to meet your needs and budget. Contact us today to get started on your new RV park map.
6. How do I know if my website design is effective?
When it comes to website design, there are many different factors to consider. Is the site easy to navigate? Is the content well-written and relevant? Are the visuals engaging and relevant? However, one of the most important aspects of effective website design is making sure that the site is designed with the user in mind. After all, what good is a website if no one can figure out how to use it?
One way to gauge whether or not your website design is effective is to look at your RV park map. If people are leaving your site without finding what they're looking for, then chances are that your design isn't very effective. Another way to gauge the effectiveness of your website design is to look at your google analytics. This free service provides a digital dashboard that shows you how people are interacting with your site. If you see a high bounce rate or low average time on site, then it's likely that your design needs some improvement. Ultimately, the goal is to have a website that is both visually appealing and easy to use. By keeping the user in mind, you can create a website that meets both of these objectives.
7. What are some common website design mistakes?
When it comes to website design, there are a few common mistakes that tend to crop up. One of the most common is neglecting to include a call to action. A call to action is a statement or button that urges the viewer to take some kind of action, such as clicking through to another page or entering their contact information. Without a call to action, viewers may simply leave your website without taking any desired actions. Another mistake is related to buttons. Too often, website designers use small, hard-to-see buttons that blend in with the rest of the page. As a result, viewers may miss important calls to action. Finally, another common mistake is using too many pictures. While pictures can be helpful in conveying information, too many can make a website look cluttered and difficult to navigate. When designing a website, it is important to keep these common mistakes in mind in order to create an effective and user-friendly site.
8. How often should I update my website design?
RV Park Map is a website builder that helps RV parks to update their website design. The company recommends that RV parks update their website design every two years. This allows RV parks to keep their websites up-to-date with the latest trends and technologies. Additionally, RV Park Map offers a free website design consultation to help RV parks determine how often they should update their website design. This consultation can help RV parks to save money and time by only updating their website design when it is truly necessary. As a result, RV Park Map is a great resource for RV parks that want to keep their website design up-to-date without spending too much time or money on the process.